Home

  Carpet-Shampooing-Upholstery-Cleaning
Carpet Shampooing Upholstery Cleaning
Get Upholstery and Carpet Cleaning Services in NYC
We offer modern upholstery and carpet cleaning services in Manhattan and Brooklyn. Our refined techniques prevent fiber damage and fading of the carpet color and appearance. We also use rotary jet extractor machines which guarantee the removal of all stains, soil, allergens, dirt, dust, chemicals, spills, and so on.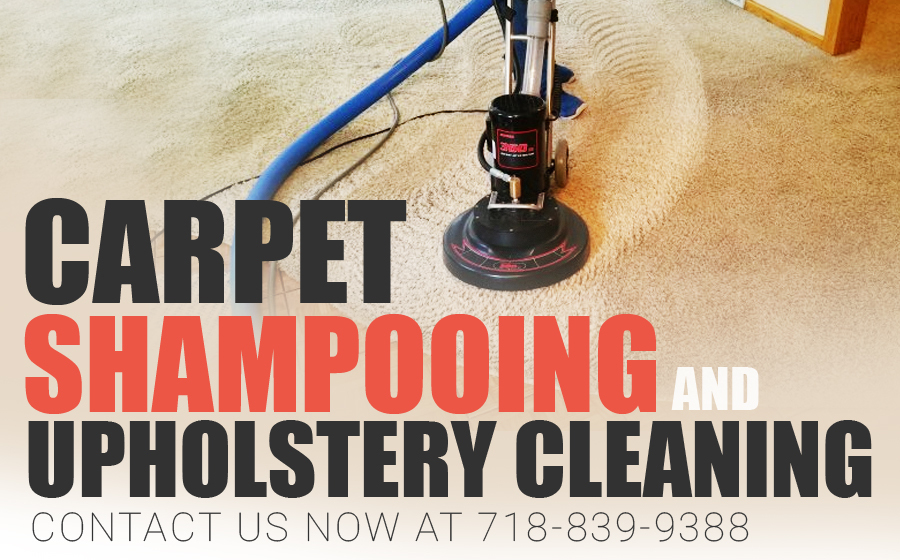 Our Process
First, we use a HEPA vacuum to clean the carpet or upholstery thoroughly. We then pre-treat the carpet or upholstery using a biodegradable cleaning formula. Finally, we proceed to shampoo and deodorize the carpet for odor-free freshness and a long-lasting shine.
The Perks of a Clean Carpet
New York City is a pretty polluted place and you don't want to get that grime to sink into your carpets. Specifically, there are many reasons to consider office carpet cleaning services. Clean carpets in your business space can:
 Project a first-class image

 Welcome your customers and shows that you care about the appearance of your facility

 Increase the longevity of your carpet

 Improve indoor air quality with the elimination of allergens and dust mites
Home and Office Carpet Cleaning Services
As a reputable residential and commercial carpet cleaning company, you'll feel the difference when you choose our services. We:
 Have a team of trained, professional carpet cleaners and shampooers

 Use high-tech chemicals and advanced equipment

 Thoroughly pre-inspect your carpet(s) to identify wear or other problems

 Employ cleaning procedures that are recommended by leading carpet mills

 Offer discounted carpet cleaning and upholstery cleaning specials

 Offer dry carpet cleaning, deep cleaning, or other customized cleaning services

 Use safe, non-toxic cleaning methods

 Use a process that ensures fast drying times and leaves no sticky residue

 Pre-groom or pre-scrub to loosen embedded soil in the carpet

 Pre-spray and pre-spot for effective stain removal
  We are one of NYC's most reliable home and 
business improvement contractor.
We have completed thousands of commercial
and home improvement projects